Author Alley is one of Loganberry Books' signature annual events and a key part of our celebration of Local Voices. Every summer we feature a busy bookfair of local writers, signings and readings.
We expanded from one day of Author Alley to a three-day extravaganza over three weekends, featuring a BIPOC Author Showcase, a fiction day, and a nonfiction day, along with supporting programming in our Broadsides and Ephemera reading series.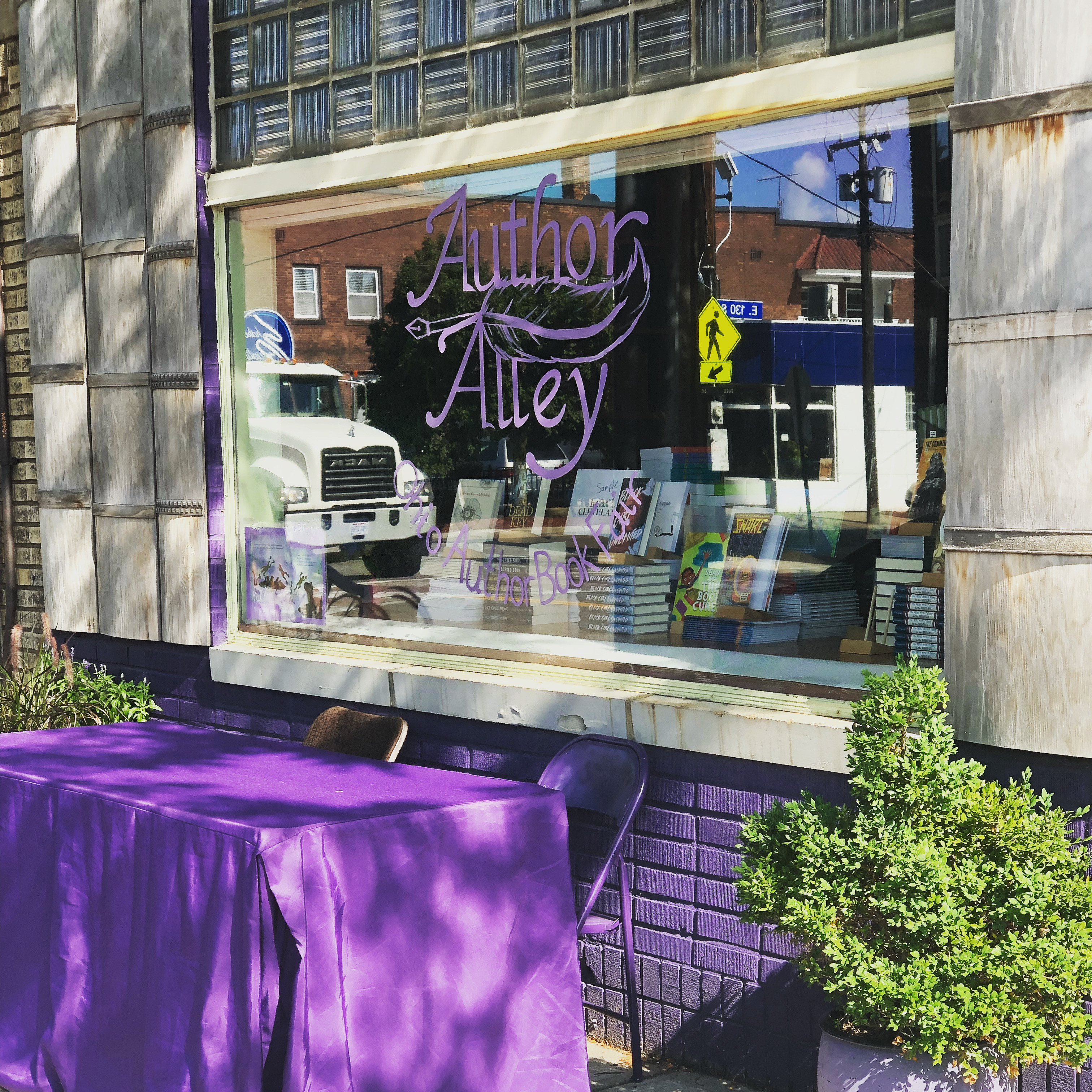 BIPOC Showcase - Saturday, August 6th from noon - 4 pm
Fiction & Poetry - Saturday, August 13th from noon - 4 pm
Nonfiction and graphic novels - Saturday, August 20th from noon - 4 pm
2022 Author Alley participants:
Author Alley BIPOC showcase 8/6/22: John Ballom, Luciana Black, Kyra Ann Dawkins, Latonya Fenderson-Warren, LaBena Fleming, Chelbi Graham, Nikki Gregory, Carmen Hall, Valencia Joy, Lady Poet, Donald King, Nicole D. Miller, Denise Monique, Elana Pitts, Ashley Scott, Kamatchi Devi Subramanian, Cori Sykes, Chante Thomas, Gabrielle Vaughn, RJ Voice, Mary Watson, Anthony Webb, James Wingo, JJ Winston, and Ticana Zhu.
The Broadsides & Ephemera Poetry Showcase 8/13/22: Megan Neville, Jeremy Jusek, Kevin Risner, Cat Russell, Ken Tomaro, and others.
Author Alley Fiction 8/13/22: Monica Babcock, MT Bass, JD Blackrose, Dan Chaon, Diane Ferri, Deborah Fleming, Jason Lady, Lori Lent, Holly Maholm, Anthony Miano, Clarke Owens, Frank Paino, Victoria Perkins, Molly Perry, Brian Petkash, Susan Petrone, Catherine Pomeroy, Halle Prenata, James Redwood, Emma Riva, Amy Rosenbluth, Megan Whalen Turner, Mary Turzillo, Abby Vandiver, and Laura Walter.
Author Alley Nonfiction 8/20/22: Melissa Crandall, Alison Duiker, Gary Dumm, Tameka Ellington, Na'Tasha Evans, Ashley Fedan, Liz Ferro, Deborah Fleming, Martin Gitlin, Rev Rachel Hollander, John Kavouras, William Keating, Judi Lifton, Scott Longert, JD Lubinger, Scott MacGregor, Robert Miltner, Clay Myatt, Dan Nathan, Alexi Panehal, Janie Reinart, Suzy Remer-Bednarski, Alex Shaland, Irene Shaland, Tricia Springstubb, Gary Webster, and Karly West.
2021 Author Alley participants included these writers and titles.
For the BIPOC showcase: J.D. Belcher, The Inescapable Consequence; Margaret Bernstein, The Father's Walk; Echo Brown, Black Girl Unlimited; Angela Crook, Maria's Song: Fat Chance Series, Book 3; Monique Donaldson, In Too Deep 2; Barbara Essex, Bad Girls of the Bible; Dr. Kate Anderson Foley, Ida Finds Her Voice; Nikki Gregory, Lotus the Vice POTUS; Valencia Joy, I Met a Guy; Fadi Karim, The Robin's Story; Nikki Cheree, Beyond 2020: Life and Business Lessons on Thriving Admist a Pandemic; Konnie Peroune, The Escapentures of Esperanza Mae Windborne; Michael Samulak, A is for Africa; Jyotsna Sreenivasan, These Americans; Cori Sykes, The Clouds Will Catch Me; Chante Thomas, Sean and the Book Cures; Mary Watson, Wisdom Warriors; J.J. Winston, Commemoration; Felicia Zamora, I Always Carry My Bones; Ticana Zhu, Dynasty of Summer; Andrea Doe, Nightmare; Randall Gregory, Chasing the Roots of my Heritage; Latonya Fenderson-Warren, Imperfect & In Love With God; Siaara Freeman, Haint Blue; Michelle R. Smith, The Vagina Analogues; R.J. Voice, Reflections of an Unspoken Soul; Anthony Webb, Once Upon a Word; Camille Jean Welsch, Poems - Volume 01
The Broadsides & Ephemera Poetry Showcase: Doc Janning, Barbara Sabol, Laura Grace Weldon, Randy Rosko, Marcus Holmes, Lake Erie Ink Teen Showcase, Emily Troia, Diane Vogel Ferri, Ann Swider, Kisha Nicole Foster, Isaac Pickeli
Author Alley Fiction: Patricia Averbach, Resurrecting Rain; Sara Dobie Bauer, This is not a Horror Movie; Eric Coble, The Velocity of Autumn; Alex DiFrancesco, Transmutations; Jeffrey Keiper, In the Wheelhouse; Jason Lady, Super Problems; Terri Libenson, Truly Tyler; Paula McLain, When the Stars Go Dark; Dana McSwain, Roseneath; Kate Norris, When You and I Collide; Victoria Perkins, Star Riders: The Twelve; Susan Petrone, The Heebie-Jeebie Girl; Tricia Springstubb, The Most Perfect Thing in the Universe; Abby Vandiver, Game of Cones; Laura Maylene Walter, Body of Stars; Marie Vibbert, Galactic Hellcats; Karly West, The Scholarly Banana Presents Fitcher's Bird: A Classic Fairy Tale from the Brothers Grimm; Carol Wulff, William, The What-If Wonder On His First Day of School
Author Alley Nonfiction: Janet Alexander, Braiding Horsehair Bracelets: Your Beginner's Guide; Lou Barrett, The Breakup Book: Essays on Queer Breakups; Derf Backderf, Kent State; Marc Bona, Hidden History of Cleveland Sports; Sequoia Bostick, Vagabond Comics; Penny Cassleman, How to Get a Free Boob Job; Kathleen Crowther, The Making of Cleveland's Black Suburb in the City; Laura DeMarco, Lost Civil War: The Disappearing Legacy of Americas Greatest Conflict; Gary Dumm and Scott MacGregor, Fire on the Water; Kathy Ewing, Lead Me, Guide Me: The Life and Example of Father Dan Begin; Cris Harris, I Have Not Loved You With My Whole Heart; Reverend Rachel Hollander, From There to Here: an insider's guide to navigating the darkness; Susan Kaesar, Resisting Segregation; Scott Kraynak, The heART of Cleveland; Laura Peskin, Deep Cover Cleveland: Topics in Depth (vol. III); Marjorie Preston, OH! That's Funny! 101 Hilarious Ohio Jokes; Brandy Schillace, Mr. Humble & Dr. Butcher; Betty Weibel, The Ohio Literary Trail: A Guide; Carlo Wolff, Trying Times; Annie Zaleski, Duran Duran's Rio (33 1/3, 156)