We celebrate visual art as well as books & writing!
The Loganberry Books Annex Gallery features a monthly rotation of local artists. From painting to photography, ceramics to collage, each month is a new feast of artistic enterprise.
Artist receptions are the first Thursday of the month from 6:00 pm - 8:00 pm
October features the our Halloween display and tour, Haunted Book Shop
November and December feature our holiday bazaar, Otis' Old Curiosity Shop
Click to email Annex Gallery manager Rachel Krislov
Current Exhibit
Joel Bartell - Shaker Heights and Cleveland landscapes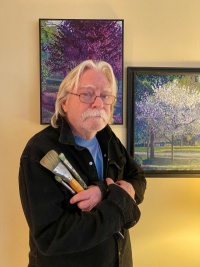 Opening reception with the artist on Thursday, July 7, 6pm-8pm!
Join us for the opening of an art show by local artist Joel Bartell!

Joel was born and raised in Cleveland and is a graduate of Cooper School of Art where he studied both sculpting and painting. Joel finds inspiration in the flora and fauna of Northeast Ohio; his latest works have been an expression of his deep appreciation for the spectacular trees in the area. His paintings often feature a cropped subject matter in a style that draws inspiration from classic impressionism while incorporating the techniques of pointillism. Joel hopes to capture the beauty of the old, flowering and often twisted trees that line the streets of both Cleveland and Shaker Heights and impart feelings of familiarity and awe.
This exhibit runs from July 5, 2022 - July 29, 2022
---
Upcoming Exhibits