2014 Exhibits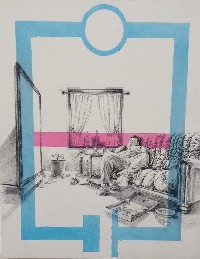 Ari Warner: Illustrations
Thursday, January 9, 6:00PM
Ari's work is in acrylic, but you might think it's pen and ink, with watercolor washes. His lonely people speak volumes with just their eyes, and great attention to detail and use of white space. Come celebrate the arts and meet Ari at the opening reception. Show continues through February 2.
---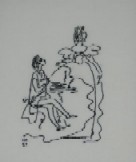 Eugenia Vainberg: One Stitch At a Time
Thursday, February 6, 6:00PM
Show: February 6--March 3
Eugenia is a lifelong student and admirer of art. She is also an embroidery artist, creating her own works as well as translating works of beloved artists into embroidery. Opening Reception with the artist is on the first Thursday, February 6, 6-8pm. Annex Gallery show runs February 6 through March 3.
---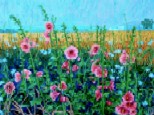 Irwin Weinberger: Garden of Earthly Delights
Thursday, March 6, 6:00PM
Show: March 6 - April 3
After a summer trip to France, with a stop at Monet's garden in Giverny, Weinberger's heart was overflowing with inspiration. With a trick of the brush and a few strokes of pastel, Irwin manifested a "Garden of Earthly Delights" that will satisfy your senses and fulfill your desire for color even through a Cleveland winter.
---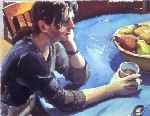 Robert Raack: Watercolors
Thursday, April 3, 6:00PM
Robert Raack received an MFA in Painting from Kent State University and went on to teach Painting, Drawing and Design at the University of Akron, the Cleveland Institute of Art, Youngstown State and Orange Art Center. Mr. Raack draws and paints from direct observation with the emphasis on seeing how color relationships function to convey a sense of light and space. He has completed over 30 commissioned paintings over the past twelve years, with more than half those for Case Western Reserve University. Mr. Raack has exhibited in numerous regional, national and international juried exhibitions winning numerous awards. Show continues through April 28.
---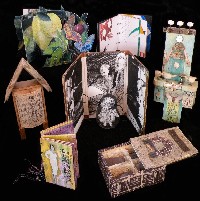 Altered Book Group: Secrets
Thursday, May 1, 6:00PM
An exhibit of altered books, featuring the works of C.T. Anson, Cynthia Beeker, Phyllis Brody, Sarah Clague, Gene Epstein, Pat Pitingolo, and Anne Weissman. Show continues through May 31. Subsequent Annex Gallery Openings will be on the first Wednesday of the month.
---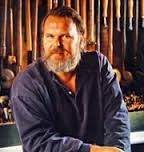 International Tribute to Design Book Binder Jan Sobota
Wednesday, June 4, 6:00PM
Loganberry Books will exhibit a unique international tribute to late design book binder Jan Sobota throughout the month of June in the Annex Gallery. The show centers on a hand-made book, Remembering Jan Sobota, written and printed from intaglio prints by Sobota's friend and colleague Ladislav Hanka. Twenty-three copies of the book are included in the exhibit, each one presented in a unique design binding by one of 23 book binders from 13 U.S. states and three countries, among them Sobota's widow, Jarmila Jelena Sobotova. Several local and Ohio book artists have contributed to the show, including Ellen Strong (Strong Bindery, Cleveland, OH); Cris Takas (Chardon, OH); Harry Campbell (Ohio State University Conservation Lab); and Gabrielle Fox (Cincinnati, OH). The exhibit also includes other works by Ladislav Hanka, himself a noted bookbinder and artist. Hanka will be in attendance at the opening reception.
---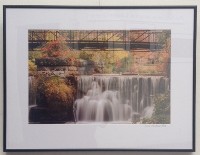 David Perelman-Hall and Bob Lanese: Cleveland Photography Opening Reception
Wednesday, July 2, 6:00PM
In a mixture of large scale and sumptuous black-and-white and color photography, the artists present a two-part show on local venues Doan Brook and Lakeview Cemetery. Exhibition continues through August 2.
---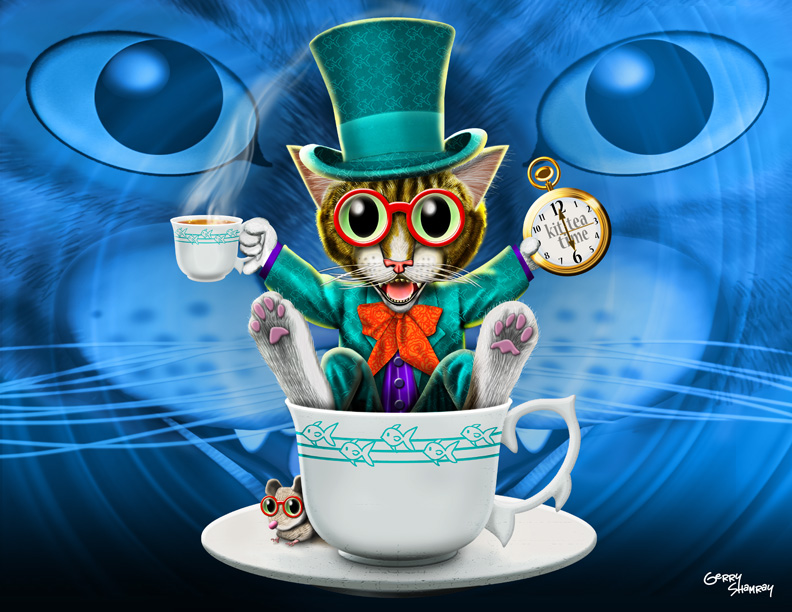 Gallery Opening: Gerry Shamray
Wednesday, August 6, 6:00PM
Gerry Shamray is best known for his sketchy life-like drawings of Harvey Pekar in the comic book American Splendor. He's also worked with legendary comic strip artist/writer Tom Batiuk ("Crankshaft," "Funky Winkerbean") on the nationally syndicated strip, "John Darling." While working in the newspaper business as an artist and writer, Gerry has garnered over 25 national and statewide awards and even earned a local Emmy during his stint at WVIZ. Gerry's work ranges from realistic pen & ink sketches to humorous digital illustrations. His online portfolio is at shamray.com.
---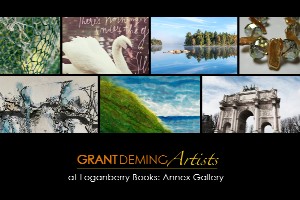 Gallery Opening: Grant Deming Artists
Wednesday, September 3, 6:00PM
Grant Deming Artists is a group of seven Cleveland Heights artists residing in Grant Deming's Historic District. Member artists are Natalia Bicvic, Cheryl Cochran, Fern Grunberger, Jean Hoffman, Donna Marchetti, and David Perelman-Hall. Their work encompasses many genres, including photography, watercolor, oil, textiles and mixed media.
---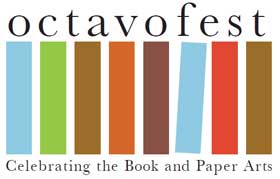 Octavofest
Wednesday, October 1, 6:00PM
thru October 29, 2014
Octavofest is a book and books arts celebration all over Northeast Ohio, and throughout the month of October. Visit the Loganberry Books Annex Gallery for our Altered Octavos contest, featuring altered books. Top juried prize is $500, plus there's a People's Choice prize too, for which you can vote!
Check out the Ocatvofest website to find out more about events around town: http://octavofest.org/
---
Altered Octavos: Opening
Wednesday, October 1, 6:00PM
Altered Octavos is a mixed media art contest of altered books. An altered book is a book-object transformed from its original form into a personal work of art. Entries can be as simple as a drawing or text on a page or as complex as a sculpture, but it must be an original piece of art, using or derived from books. Top Prize is $500, adjudicated by a professional team of book and art professionals, and awarded on October 29.
---
Altered Octavos: Awards
Wednesday, October 29, 6:00PM
Who will win? Join us for an Awards Reception for the Altered Octavos contest. Best of Show (adjudicated) wins $500, People's Choice Award (did you vote yet?) and several Honorable Mentions win gift certificates. The judges include Anna Arnold (Wasmer Gallery), Cris Rom (CIA), Cris Tackacs (bookbinder), Bruce Taylor (Morgan Conservatory) and Harriett Logan (Loganberry Books).
---
Otis' Old Curiosity Shop: Artist Reception
Wednesday, December 3, 7:00PM
Opening Reception for the artists who have work in Otis' Old Curiosity Shop. Join us for some good wine & cheese, and enjoy the pop-up holiday shop in full swing!
---
Otis' Old Curiosity Shop SALE
Wednesday, January 7, 7:00PM
It's Sale time! Everything remaining in Otis' Old Curiosity Shop is now 40% off, including holiday cards and 2015 Calendars. Take a swing by, and stock up for a year's worth of birthdays and other celebrations!
---
Josie Platt: Gritty Image Photography
Wednesday, February 4, 7:00PM
Iconic Cleveland Josie Platt, of Gritty Image Photography, has lived most of her life in Cleveland, Ohio. Having had short stints in Cincinnati and St. Louis, she has come to truly appreciate and love the "rust belt chic" of her hometown. A graduate of Case Western Reserve University and a former therapist, Ms. Platt now uses her camera to "listen" to and record the lives and community around her. She believes that photography is at its' best when used as a social and anthropological medium. Iconic Cleveland is a tribute to this hard-working, resilient town. It showcases Cleveland's industrial might, cultural strength, and quirky, lovable "self". The images may not always be pretty-but they are real. Perhaps one might call them Imago Veritas-each image possessing its' own unique bouquet.
---
Mitzi Faye - FANTASY LANDSCAPES & OTHER IMAGINATIONS
Wednesday, March 4, 6:00PM
Collage is a form used by many artists at some time in their creative investigations. These alternative realities have no preconceived themes. I do not start with an idea or create them with some final image in mind. I use only the materials at hand: magazines, catalogues, advertisements that come in the mail. I tear and cut at random, and the relationships between the glossy bits of paper seem to develop naturally, intuitively. The compositions emerge almost on their own, surfacing from some unknown, unexplored, untapped place in me. It is as if they just happen, without my help or interference. I have never worked like this before and I have found it very liberating.
---
Annex Gallery Opening - Dawn Grattino "It's All Political"
Wednesday, April 1, 6:00PM
Dawn Grattino is a Cataloger at Cleveland Public Library and is active in her Union. Her art tends toward the political. This show has major themes of war and remembrance, specifically the Vietnam War and the Kent State shootings. Even her whimsical frog prints are political. These images were created in 2013 when Dawn participated in the Trades Project sponsored by the North Shore AFL-CIO's labor arts arm. She worked with print-maker and teacher Lisa Schonberg at Zygote Press creating a series of linoleum block prints that make up a large unified artwork and several series of monoprints.
---
Annex Gallery - Altered Book Group
Wednesday, May 6, 6:00PM
The Altered Book Group Explores Space! Our annual show featuring a range of altered books, as interpreted by Judith Angelo, C.T. Anson, Phyllis Brody, Sarah Clague, Gene Epstein, Pat Pittingolo and Anne Weissman. Opening Reception Wednesday, May 6, 6-8pm. Exhibit continues through May 28.
---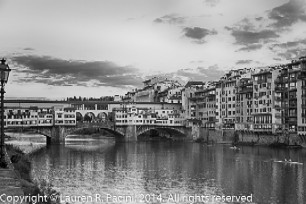 Annex Gallery Opening: Lauren Pacini "Tuscany in Black and White"
Wednesday, June 3, 6:00PM
Opening Reception for the new show, Lauren Pacini's "Tuscany in Black and White" in the Annex Gallery. Lauren Pacini specializes in high-contrast black and white photography. His primary focus is the urban landscape with particular emphasis on the adaptive re-use of historic properties. This collection focuses on the urban landscape in Tuscany, Italy. Show continues through June 28.
---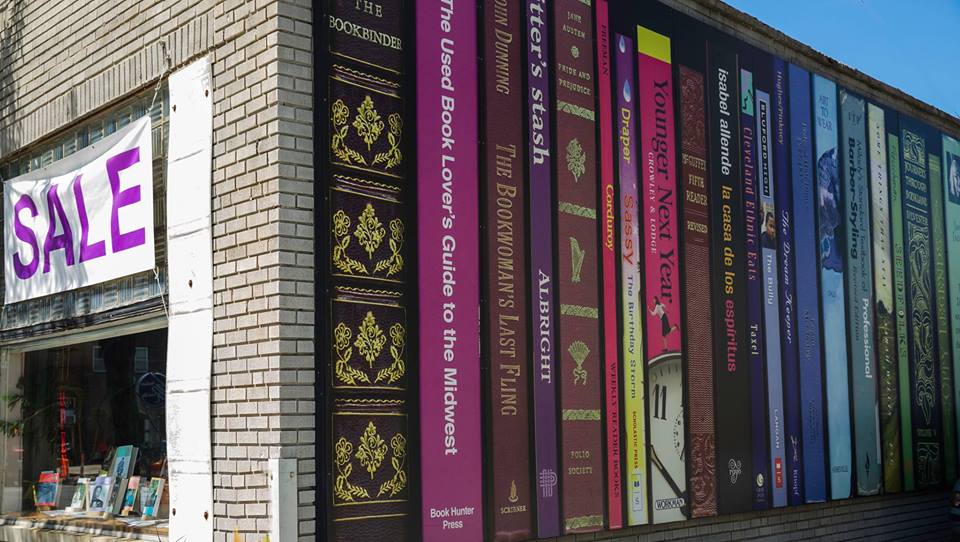 Annex Gallery Opening-Reading Cleveland: Unabridged
Wednesday, July 1, 6:00PM
Cleveland is renewing its vibrancy while retaining its strong literary and industrial history. Now four photographers - Judy Rawson, Stewart Helberg, Chris Bradlee and Robert N. Brown - have combined to create a photography show telling this story. Opening reception is Wednesday, July 1. Show runs July 1 through August 1.
---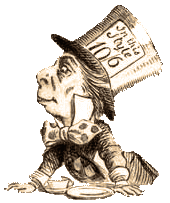 Alice in Wonderland: 150 Year Celebration
Wednesday, August 5, 6:00PM
Join us for the sesquicentennial celebration of Alice's Adventures in Wonderland! Our Annex Gallery will feature books, prints, toys & ephemera from the personal collections of Harriett Logan & Larry Rakow during the month of August (there will also be plenty for sale, too). During the Opening Reception on August 5, Harriett and Larry will be there to show off some of the artifacts and share Alice trivia. Exhibition remains in the Annex Gallery through August 30.
---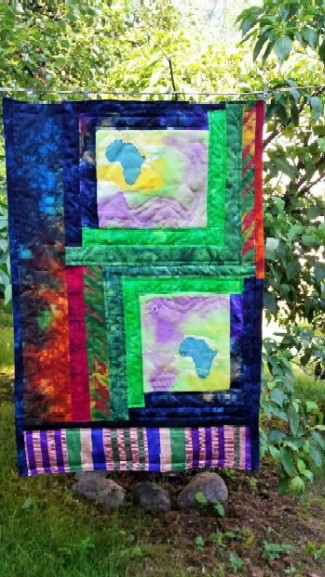 Annex Gallery Opening: Barbara Huff
Wednesday, September 2, 6:00PM
Barbara's one-of-a-kind creations combine traditional quilting techniques such as piecing and applique with surface design such as dyeing, painting and stamping with her own hand-carved blocks. She recently returned to Cleveland after having lived away for many years. Part of that time she spent traveling and began collecting textiles from different parts of the world, which she sometimes incorporates into her pieces. Barbara's focus is on using beautiful materials in unique ways and she hopes that you will take as much pleasure in viewing them as she has in making them. Barbara has studied at the Smithsonian lnstitution, the Art League and Praxis Fiber Workshop. Barbara is a member of the StudioArt Quilt Association and the Surface Design Association.
---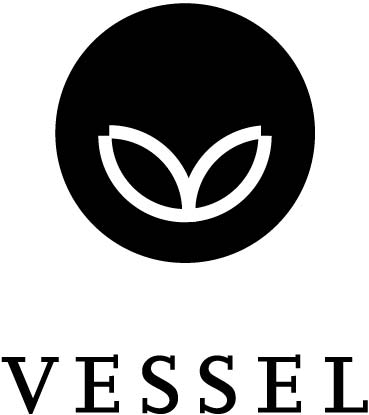 Guild of Bookworkers: Vessel
Wednesday, October 7, 6:00PM
The book as vessel inspires beautiful metaphor: a craft for traveling, a container, a holder, a receiver, a transporter. Guild of Book Workers showcases their interpretation in this nationally touring exhibition, on display at Loganberry Books Annex Gallery October 7—31. Opening Reception is October 7, 6-8:30 PM.
---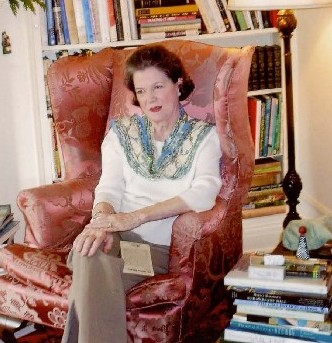 Lynda Elliott Bumpus Reception
Friday, January 22, 5:00PM
A reception and book sale to honor the late Lynda Elliott Bumpus and her fine book collection. Books specialties include women travelers, Asian art and history, Venice, books on books, and beautiful bindings. Friends and family members will be in attendance to drink a toast and to enjoy Lynda's collection.
---
Annex Gallery Opening: Annmarie Suglio
Wednesday, February 3, 6:00PM
Annmarie Suglio is a recent graduate of the Cleveland Institute of Art earning her Bachelor in Fine Arts degrees in Fiber + Material Studies and Sculpture. At CIA, she received the Sara Mattsson Anliot Award for Excellence in Weaving, Wenda von Weise '75 Memorial Scholarship in Fiber, and Barbara L Kuhlman Foundation Scholarship in Fiber Arts from 2013-2015. Suglio has shown work at Art Spot in Cleveland Heights, Forum Artspace at the 78thStudios in Cleveland, and at the Reinberger Gallery at CIA. She has been a teacher's assistant in CIA's Continuing Education Weaving summer courses, technical assistant in fiber for the Sculpture department at CIA, and textile conservation intern at the Cleveland Museum of Art.
---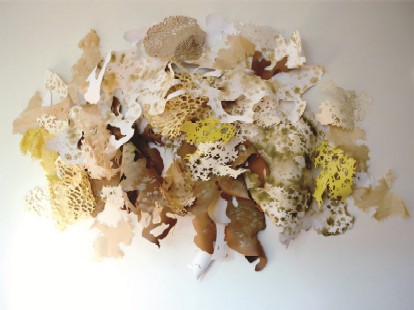 Abbey Blake
Wednesday, March 2, 6:00PM
Abbey Blake received her BFA in Printmaking from the Cleveland Institute of Art in 2014. Along with her studio practice and running a small print and jewelry business, Blake also works for American Greetings as a creative and technical specialist. Blake's work ranges from printmaking, encaustic painting, enamel sculpture and installation art. Her work has been exhibited in over 20 regional shows within the last 2 years and is always available to view online at abbeyblakeart.com.
---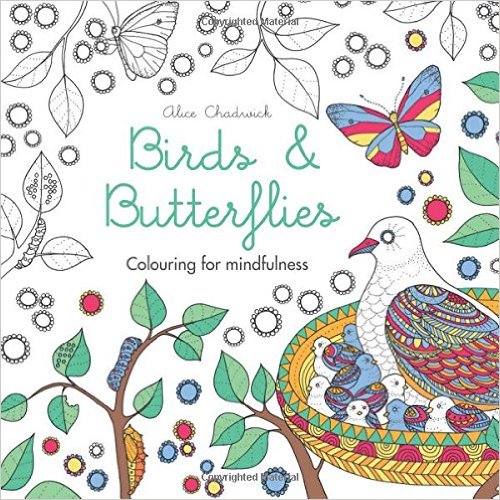 Coloring Book Party
Wednesday, March 30, 7:00PM
Coloring Books are all the rage, and rightfully so, as they offer a therapeutic, meditative element to our busy world. But sometimes it's nice to be social, too, so join us for a group coloring event. You can bring your own coloring books, or use pages from ours (we sell some pretty cool ones, too). Special this round: coloring pages that are designed to be cards, with hand-colored envelopes. All ages welcomed. If this is popular, we might make a monthly event of it.
---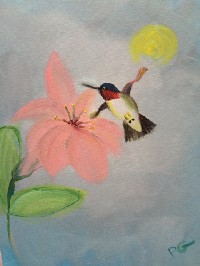 Patricia Greene: Colors of Spring
Wednesday, April 6, 6:00PM
Patricia Greene is a lover of art and is an artist who uses various mediums. Patricia enjoys painting a variety of art and explores both abstract and realism in her work. Patricia has been an artist since she was a child and holds an associate of art degree from Tri-C, having graduated magna cum laude. This is her first time exhibiting her work and she is looking forward to sharing her art.
---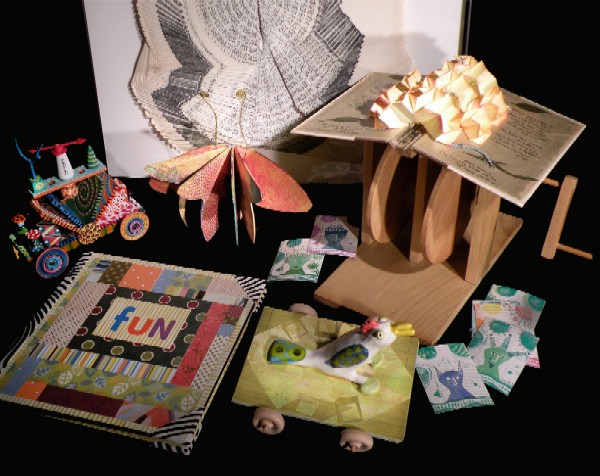 The Altered Book Group: Fun & Games
Wednesday, May 4, 6:00PM
The Altered Book Group explores fun and games. Making art from books, the group will feature work from Gene Epstein, Anne Weissman, Phyllis Brody, Sarah Clague, Pat Pitingolo, C. T. Anson and Judith Angelo.
---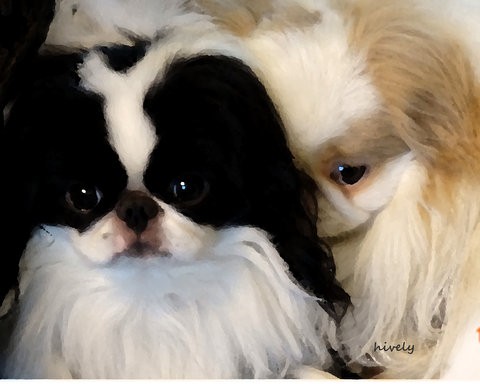 Suzanne Hively
Wednesday, June 1, 6:00PM
After studying her subjects, and shooting original photographs of them. Suzanne Hively combines the latest techniques of digital photography with a strong painterly sense, manipulating her images according to ideas about watercolor, oil painting, or other art media. She then prints her work on canvas, watercolor paper, or other art paper, which enhances the effects and adds a new dimension to the old tradition of canine portraiture.
---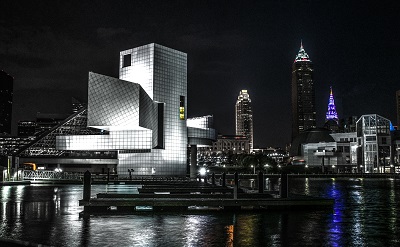 Chris Bradlee & Judith Rawson: Cleveland Classics
Wednesday, July 6, 6:00PM
Our photographic theme for this years show at Loganberry Books is Cleveland Classics. Our definition of classics are of course the old Cleveland iconic classics we have come to love with a fresh perspective along with images of things in Cleveland that will with time become Cleveland classics. Though our images will be heavily weighted in Cleveland, you can expect a smattering of surprises from other wonderful cities we have visited. Our show includes something for everyone. Framed and matted images, matted images or just prints. All are available in various sizes with special orders welcome. In addition to notecards this year we are also offering postcards. We look forward to seeing old friends and making new ones at our shows reception on July 6, 2016.
---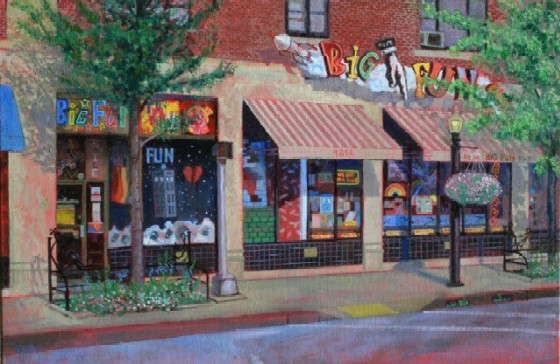 Tim Herron: Landscapes on Location
Wednesday, August 3, 6:00PM
With little art backround in High School I had my first serious art class at Akron University where although I frustrated my teacher in my art development I found my true calling. Since I've studied at Cooper School of Art (Cleveland school now defuct) and then CIA. Not having much ability upon entering Cooper School of Art, I concentrated on learning the figure thru life drawing and figure painting. My primary teachers were Lois Vance, Anthony Schepis, and Jose Cintron. Over the past two years I've concentrated on landscapes done on location. Although painting from a photo would allow me to be more technically exact it would not show the struggle and process of creating an original piece of art which provides the looser, creative style. Many of the landscapes in this show took 7 to 12 visits of two hours each to complete. I have large portraits at Mac's Back's along with different locations in Tremont like Sokolowski's University Inn and Lilly's Chocolates. Although I will work from photos, I prefer direct observation. "Landscapes on Location" opens August 3rd and closes on September 4th, 2016
---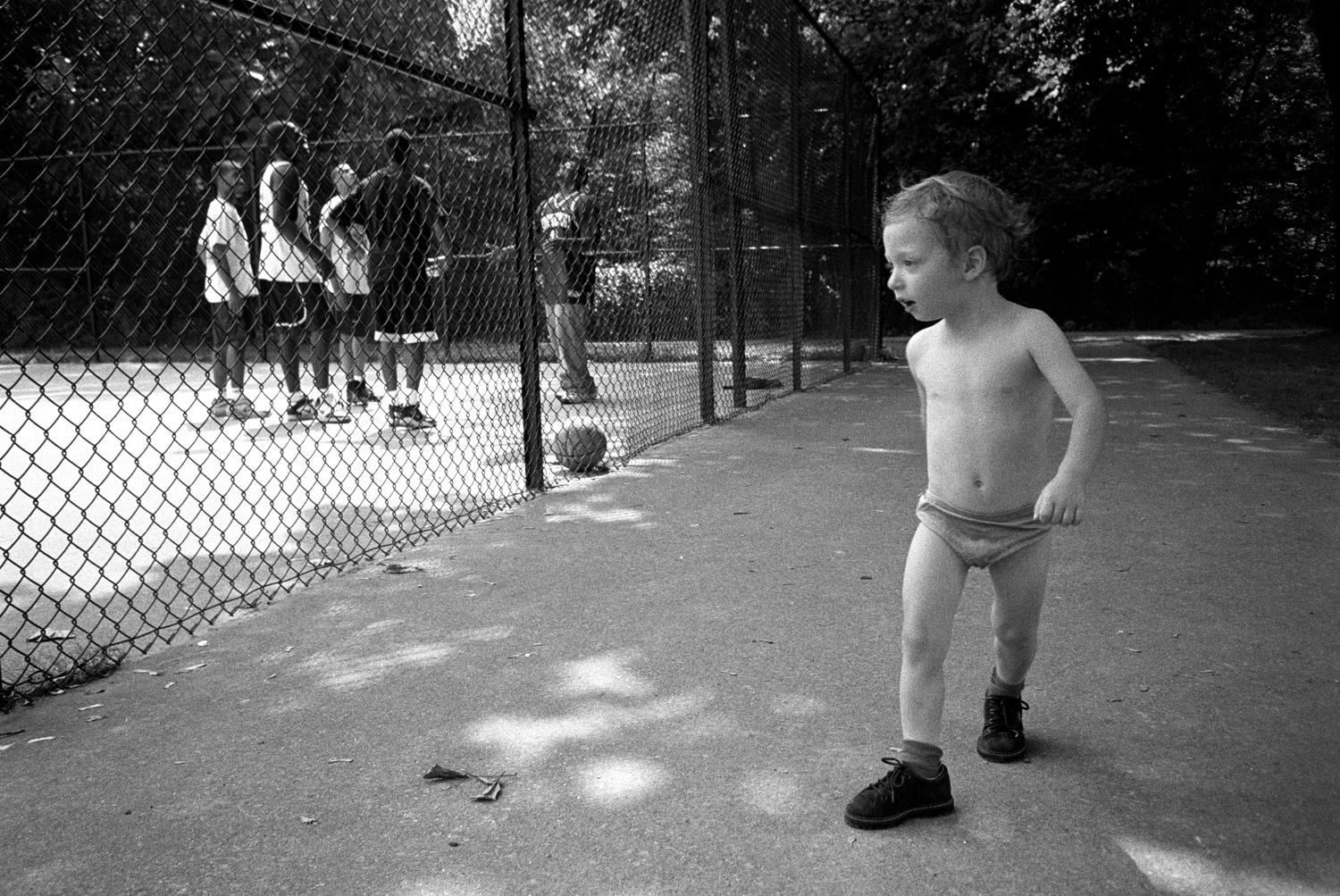 Janet Century
Wednesday, September 7, 6:00PM
The theme of the show is "People in Motion" drawn from my archives spanning decades...going back to 1982 through the present. What ties the selection of imagery together even though there is no direct subject , time or similarity of environment is the approach to capturing the moment in motion. This style of photography is a favorite of mine...emulating the " Decisive Moment" approach made famous by Henri Cartier-Bresson, a famous Black & White French Street photographer who has influenced my style from my earliest days as a photographer. My personal work , however , spans many genres ...look forward to seeing upcoming collections defining my legacy photographs. To name a few themes: scenics & landscapes, travel, people & portraits, nature, social political movements & urban culture, local Cleveland neighborhoods....all with the impetus of capturing the "Decisive Moment." www.janetcentury.com
---
Art Books Cleveland: Ninth Annual Abecedarium Exhibition
Wednesday, October 5, 6:00PM
An abecedarium is a "alphabet book" -- a book organized around a listing of letters in an alphabet. Book artists in the group Art Books Cleveland take an expansive definition of the term to produce works that explore the creative interpretation of letters and language.
---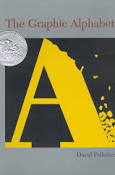 ABCs of Alphabet Books
Wednesday, October 19, 7:00PM
Dr. Laura Martin's presentation will include a short history of alphabetic order, how alphabets were developed, and differences among languages and cultures. She will also talk about Art Books Cleveland's 9 years of alphabet-book (Abecedaria) exhibitions, and will introduce attendees to the unique, collectible books by Cleveland area artists in the October exhibit in Loganberry Books Annex Gallery.
---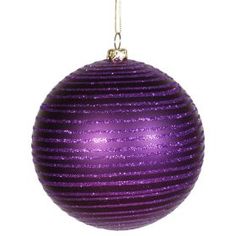 Holiday Open House
Wednesday, December 7, 6:00PM
Join us for a reception to celebrate the season and our thanks to the community. Our popular holiday pop-up gift shop, Otis' Old Curiosity Shop, is in full swing, featuring local artists, fair trade crafts, toys, gifts, games, and literary tchotchkes. Our holiday open house has a traditional offering of fine cheese and good wine. Brian Henke, guitar maestro, will entertain us from 6:30-8:30pm. Happy Holidays, everyone!
---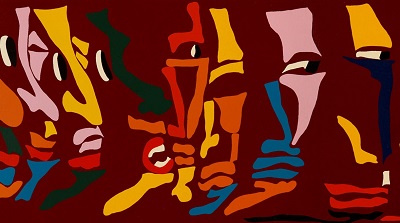 Dale Goode: Forty Years of Work
Wednesday, February 1, 6:00PM
This exhibit is a culmination of forty years of intensive trial and error, showcasing original drawings and prints. Each piece reflects a mixture of facial features, and if looked upon close enough, there is intentional rearrangement of anatomical parts between faces. Working primarily in black and white, Dale Goode enjoys bringing out the emotional qualities of his pieces. Dale Goode's work has been included in multiple exhibits and corporate collections in Cleveland and beyond, including Progressive Insurance, The Cleveland Urban League, The N.A.A.C.P., University Hospitals, The George Gund Foundation, and The Butler Institute of American Art. This exhibit opens on Wednesday February 1st with light refreshments and snacks, and closes on Sunday February 26th.
---
Sawsan Alhaddad: The Gift of Light
Wednesday, March 1, 6:00PM
Most of Sawsan Alhaddad artwork is representational. The subject and the medium she uses vary from time to time but there is a thread that runs through a lot of the work. She is fascinated with the play of light on surfaces. It could be the skin of a child's cheek, which appears translucent in a certain light or a brown tree trunk that looks golden in the setting sun. The reflection of tall grasses in a pond, the changing hues in Lake Erie or the purple tints in a cloud all make her stop in her tracks. Even the way smog makes the air look orange is a revelation. While Sawsan is well aware of the scientific reasons for all these phenomena, she still finds them magical. Sawsan Alhaddad's challenge is to take what she sees and put it into a painting so others can share the magic.
---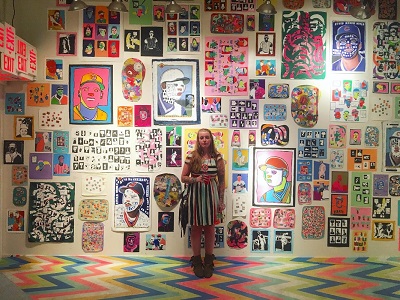 Abigail Jo Clark
Wednesday, April 5, 6:00PM
Abigail Jo Clark is a recent graduate of Cleveland Institute of Art with a Bachelor's degree in fine art, with a declaration in print making. She is currently pursuing a master's degree in art education at Case Western Reserve University. Abigail's work includes an extensive variety of printmaking and fiber art. Abigail reflects that she is "trying to align mind, body, and soul through making and expressing what it means to be in the world through her art."
---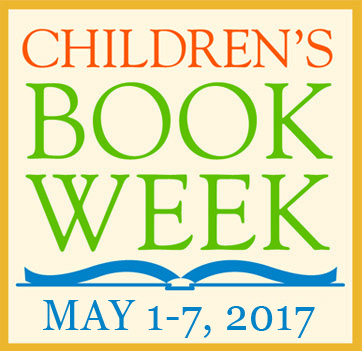 Make Your Own Pop-Up
Wednesday, May 3, 6:00PM
To celebrate Children's Book Week, Lorraine Angus helps guide young hands in a pop-up craft creation that they'll be able to take home with them. Bonus: the Loganberry Books Annex Gallery has an opening reception for the Altered Book Group during this time, so plenty of paper inspiration with the artists in attendance is just around the corner.
---
Altered Books Group: Women, Words, Wisdom
Wednesday, May 3, 6:00PM
The Altered Book Group celebrates their work in the Annex Gallery with a show exploring women, words, and wisdom. Artists to be featured in this show will include Pat Pitingolo, C.T. Anson, Gene Epstein, Sarah Clague, Diane Britt, Phyllis Brody, and Anne Weissman. Please join us for refreshments and conversation on May 3rd, from 6-8. The show will run through June 4th.
---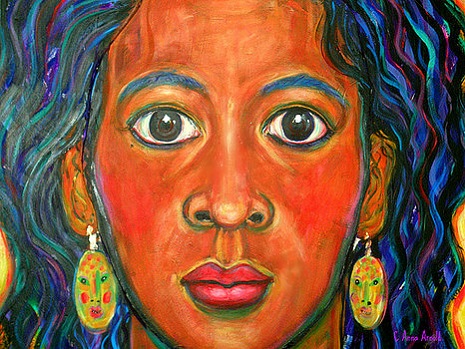 Anna Arnold
Wednesday, June 7, 6:00PM
Anna Arnold, the director of the Florence O'Donnell Wasmer Gallery and adjunct professor at Ursuline College in Pepper Pike, Ohio, is a painter and muralist and educator.. She earned her Bachelor of Fine Arts degree in drawing and video from the Cleveland Institute of Art and a Master's in Art Education at Case Western Reserve University in Cleveland in 2010. Anna is a prolific artist who has produced 100s of paintings, sculptures, ceramics and jewelry for over 25 years and has exhibited in over 200 gallery and museum, exhibit spaces and events across the United States including the National Black Arts Festival in Atlanta, the California Afro American Museum in Los Angeles, the former Alternative Museum in NYC, The Chicago Public Library, the Cleveland Clinic Foundation and the Cleveland Museum of Art.
---
Reality Abstracts
Wednesday, July 5, 6:00PM
Four local photographers build bridges between realism and abstract art in the premier of an exhibition titled "Reality Abstracts." Judy Rawson, Robert Brown, Stewart Helberg and Chris Bradlee return to Loganberry with images of real world scenes that take on the aesthetic qualities of abstract art as captured in over thirty photographs. The subject matter runs the gamut from floral to architectural, from urban to rural, and from decaying to pristine. The show opens with a reception on Wednesday, July 5th and runs through Sunday, July 30th. Recognizing that our current reality is anything but abstract, the artists and Loganberry Books will join together in donating a portion of the show's proceeds to Cleveland's Refugee Response organization.
---
Stephen Bivens
Wednesday, August 2, 6:00PM
Stephen Bivens is a Cleveland based photographer who has a keen sense of capturing beauty in both the faces and landscapes of Cleveland. He is hopeful that the imagery he shares will cause the viewer to pause and reconsider the day-to-day. Through sharing images of both beauty and heartbreak he intends to portray a city on the rise. A community of rich cultural heritage, diversity, new opportunity, and hope.
---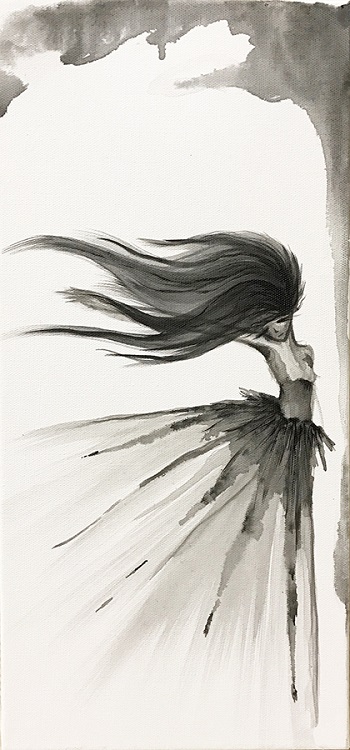 Meredith Hahn: The Ambiance of Flow
Wednesday, September 6, 6:00PM
Meredith Hahn considers herself a figurative artist. The figure in its certain poses can tell what the soul has endured. For Meredith the figure is the most natural and poetic way to express emotions or experiences. Inspired by the beauty that surrounds us, she often gives natural elements a voice or mood by merging them with the human figure. Like dancers, a tree or a mountain can have a body and face to convey a small story of its life. At times dancers are the subjects of her work. At times her figures are more like cartoons with long sleeves and blank stares. These figures are meant to bring a playful and gentle approach to life's difficult circumstances. Meredith's show opens with a reception on September 6th and runs through Sunday October 1st.
---
Sarah Willis, Karen Sandstrom, Loung Ung, Paula McLain, Sara Holbrook & Thrity Umrigar: Shared Stories
Wednesday, October 4, 6:00PM
Shared Stories: Six Writers on the Bonds of Art and Friendship
As artists, we want to explore stories. We write a poem about a dead father to discover how we might actually feel about loss and loneliness. We draw a picture of someone we love—or someone we don't even know—because in the process we try to describe the emotions of just looking closely. We write a short story about a fictional character to try to better understand ourselves. We write a novel to tell a story about people other than ourselves. We make photographs not to tie down a moment, but to open it up.
Art doesn't end with the first draft, the first words, the first lines, the first image. The beginning is a way in, a discovery that usually leads to something else, something larger, deeper, and, yes, fun—but much more work. Although we love what we do, it is never easy, and seldom finished. Because a sketch becomes a drawing with stronger lines, perhaps adding color, then it becomes a story, maybe a graphic novel or a picture book, or a conversation. And words written on a page, like these, become an idea about something we are trying to say, awkwardly at first, but with the belief that there is something to be explored, so we keep writing, then rewriting, then tear up the words, throw them away, saving only that phrase or moment or description that sings to us, that leads us forward into our characters' hearts, which are a bit like ours, but different, unique and true. We want to understand our characters and what they might say about our own humanity, all our struggles and joy.
Alone and together, we chew on our art. We worry whether we have anything new or interesting to say for ourselves and for others. Art feels unfinished until someone else sees it, participates in our story.
Sharing stories; that's what we're all about. The six of us meet for food and drinks to share our stories. We tell each other about our parents and kids, our cats and dogs, a new knee or a new car, the time we waited tables at a dinky bar, gave up a corporate job to write poetry, or staked everything on an idea for a great novel. And we talk about the process of art, the creative moment that sets everything off; how unsure we are, how much we want to tear it all up, and do tear it up, and how we put it back together again. How we discover, through revision, something that seems to work. Then we toast each other, hug each other, and feel better because have each other.
So we are here now, together in this gallery, to share a bit of our stories, because that's what do. We try to touch the world, and tell stories that say, "We are here. This is life. This is art. This is who we are."
---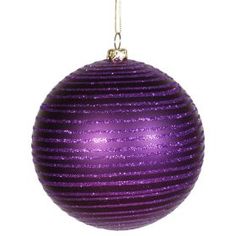 Holiday Open House
Wednesday, December 6, 6:00PM
Join us for a reception to celebrate the season and our thanks to the community. Our popular holiday pop-up gift shop, Otis' Old Curiosity Shop, is in full swing, featuring local artists, fair trade crafts, toys, gifts, games, and literary tchotchkes. Our holiday open house has a traditional offering of fine cheese and good wine. Brian Henke, guitar maestro, will entertain us from 7-8:30pm. Happy Holidays, everyone! [annual event]
---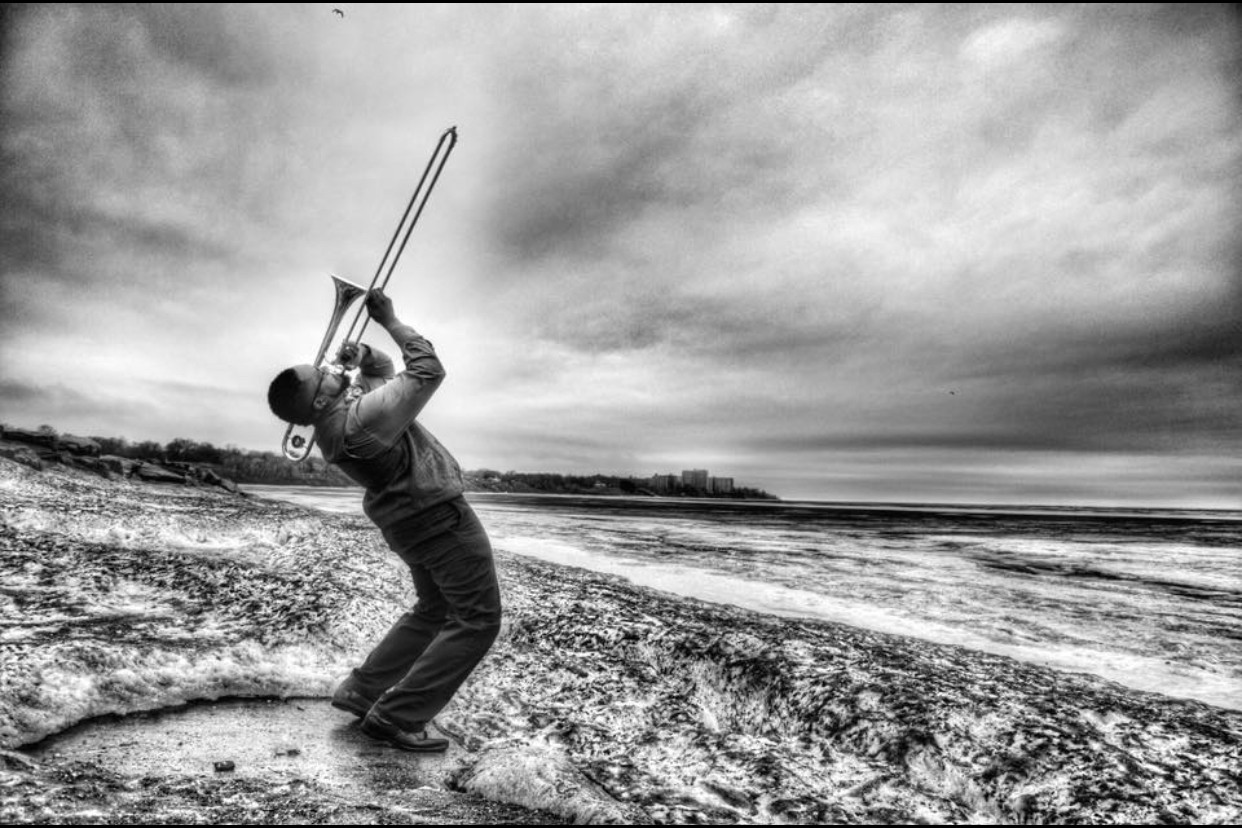 Stephen Bivens, Jef Janis and Chad Tindel: In These Streets
Wednesday, February 7, 6:00PM

Please join us for the opening of the Loganberry Books Annex Gallery show for February 2018! In These Streets highlights the work of three Black Cleveland photographers: Stephen Bivens, Jef Janis and Chad Tindel. Images on display share many experiences: an icy lakefront, Lakeview Cemetery, an abandoned piano, and a local street performer. Come experience three different perspectives and journey through the streets and pathways of Cleveland.


---
Kelly Stamblesky: Space and Time
Wednesday, March 7, 6:00PM
Join our opening receptionto meet artist Kelly Stamblesky and celebrate her new exhibit, "Space and Time", on view in the Loganberry Books Annex Gallerythrough March 2018. Ever since she was a little girl, Kelly Stamblesky found herself drifting up and out into space. For those brief moments in time, she wouldn't have a care in the world. Over the past year, with a renewed passion for astronomy and atmosphere, she realized while, in the past, this drifting in space had become an escape from extremely stressful situations, it also became the reentry point to her life as an artist. "Space and Time" is the culmination of recent work from early realistic studies of space and atmosphere to more recent exploration of our energetic place in the universe through space and time.
---
Jenniffer Omaitz Collier: Modern Marbles 2
Wednesday, April 4, 6:00PM


Please join us at an opening reception for Jenniffer Omaitz Collier's exhibit, Modern Marbles 2, to meet the artist and see the show, on view in Loganberry Books Annex Gallery through April 2018.

Marbled paper was used for hundreds of years toadorn the exterior or interior of important manuscripts. In Modern Marbles 2, Collier combines historical patterns from Turkey, France, Italy, and England,using highly saturated, non-traditional colors to enhance the art of theoriginal design.

Jenniffer Omaitz Collier lives in Kent, OH. She holds an M.F.A. in painting from KentState University and a B.F.A. in painting from the Cleveland Institute of Art;showing her professional artwork under the name Jenniffer Omaitz. In 2016, Collier founded JC Marbling & Book Arts.


---
Annex Gallery Archives