About the Author
I don't know anything about Georgiana, but I did find several titles by her, in addition to the sought-after Dr. Goat. Like Dr. Goat, they are all Whitman Tell-a-Tales, afforable little books published in the 1950s that Whitman hoped would rival Little Golden Books.
Loganberry Legacy
I have so many requests for Dr. Goat, it's silly. Part of the reason it's so hard to find is because it was a cheap book to begin with, which children were allowed to destroy and which parents threw out remorselessly. But it's out there, if you're patient.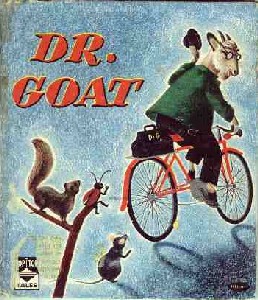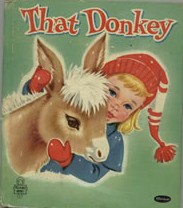 Bibliography
Animal Crackers. Illustrated by Jackie Peller. Whitman, 1950. Tell-A-Tale #837-15
Animal Jingles. Whitman, 1950.
Dr. Goat. Illustrated by Charles Clement. Whitman, 1950. Tell-A-Tale Book #841-15
Hullabaloo. Illustrated by Nettie Weber. Whitman, 1951. Tell-A-Tale #815-15
Let's Play. Whitman Publishing, 1952. Tell-A-Tale #2601
Puffy. Illustrated by Genevieve Porter. Whitman, 1953. Tell-A-Tale #2546
Teddy's Surprise. Illustrated by Suzanne. Whitman, 1952. Top Top Tales, #2467
That Donkey. Illus Dorothy Grider. Whitman, 1954.