About the Artist
(1899-1965) Born in Russia, Boris Artzybasheff fled to the United States with the advent of the Russian Revolution in 1919. Upon arrival, he spoke no English and had no money, but quickly found a job in a New York engraver's workshop. Once he had saved up enough money, though, he embarked on what was to be a life-long career as a freelance illustrator. In the following years, he worked prolifically in the booming advertising and mass periodical market, creating over 200 covers for TIME magazine alone. He also illustrated 50 books. His work is characterized by robust lineality and a frequent surrealistic bent, blending mechanical and organic to express the way in which contemporary human life exists inextricably with technology.
Loganberry Legacy
One of my favorite classic black-and-white illustrators, although of course he did more than that. Gay-Neck won the Newbery Award in 1928, but I think his best work is in The Fairy Shoemaker.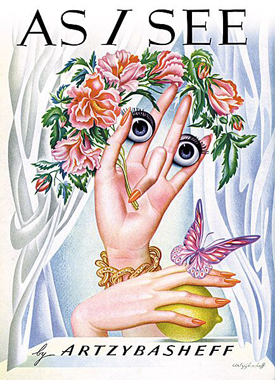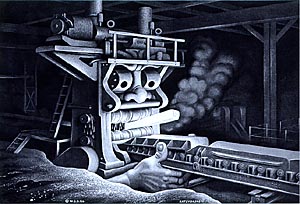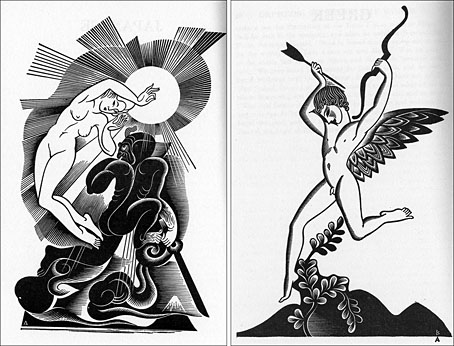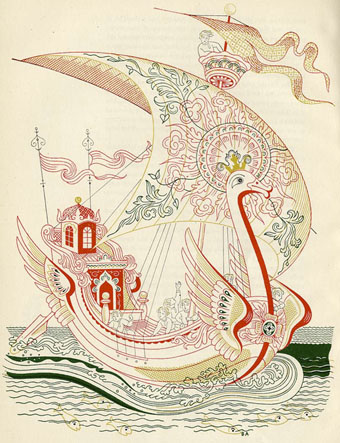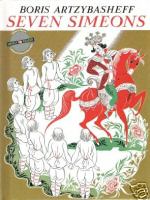 Bibliography
Apple Tree. Bianco, Margery Williams.
The Undertaker's Garland. Bishop, John Peale and Edmund Wilson, Jr. Alfred A. Knopf, 1922.
Black Thunder Bontemps. Arna Wendell. Macmillan, 1936.
Behind Moroccan Walls. Celarie, Henriette. New York: Macmillan, 1931.
The Circus of Dr. Lao. Finney, Charles G. The Viking Press, 1935.
Funnybone Alley. Kreymborg, Alfred. The Macaulay Company, 1927.
Gay-Neck; The Story of a Pigeon. Dutton, 1927.
Jonah; or, The Withering Vine. Nathan, Robert. Alfred A. Knopf, 1934.
Arabian Nights. Edited by E.L. Thorndike;. Appleton-Century, 1936.
Aesop's Fables. Viking Press, 1933.
As I See. Dodd, Mead, 1954.
The Fairy Shoemaker--And Other Fairy Poems. McMillan, 1928.
Poor Shaydullah. Macmillan, 1931.
Seven Simeons: A Russian Tale. The Viking Press, 1937. 1938 Caldecott Honor Book
Droll Stories; Thirty Tales by Honore de Balzac. Balzac, Honore de. Translated by Jacques Le Clercq. The Heritage Press, 1939.
Magic Strings, Marionette Plays with Production Notes. Bufano, Remo. Macmillan, 1939.
Creatures. Colum, Padraic. Macmillan, 1927.
The Forge in the Forest. Colum, Padraic. Macmillan, 1925.
Myths of the World. Colum, Padraic. Grosset & Dunlap, 196?
Three and the Moon; Legendary Stories of Old Brittany, Normandy and Provence. Dorey, Jacques. A. A. Knopf, 1929. Nansen. Hall, Anna Gertrude. The Viking Press, 1940.
Siberian Gold. Harper, Theodore and Winifred Harper. Doubleday, Page, 1927.
Herodotus. Edited by Gordon King. Doubleday, Doran, 1929.
Feats on the Fiord. Martineau, Harriet. Macmillan, 1924.
Fireflies. Tagore, Rabindranath. Macmillan, 1975.
The Tree of Life: Selections from the Literature of the World's Religions. Smith, Ruth, ed. The Viking Press, 1942.
Salome: A Drama in One Act. Wilde, Oscar. Peter Pauper Press, 1935.
The Wonder Smith and His Son; A Tale from the Golden Childhood of the World. Retold Ella Young. Longmans, Green, 1927.